"My life changed in a single moment of vision"
Rea Pasternak – Walk About Love founder, Sydney Australia, Summer 2006
Hi, my name is Rea, and I am a founder of Walk About Love.
My endless love for nature and landscapes started since I was a child while living in the dunes of Ashdod and Park Nitzanim.

Since I was young, I had the love and the ability to collect around me people and to go together to a different experience in nature: traveling, parties, and then journeys. Even when I was a soldier at the army, the main thing we practice was navigation in the field and living in nature

Since then, I traveled a lot around the world:
from East India to Australia, South America, and Europe. In 2011 I met a girl named Olga – she worked with me on the journeys, and then the story became more interesting.
Today she is my wife, mother of our children Ivri and Keshet, and my right hand at all the Walk About Love matters. We live at the Golan Heights and still love to travel around Israel National Trail.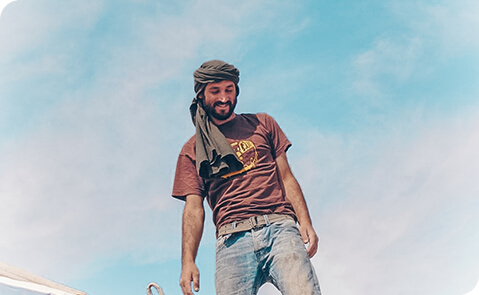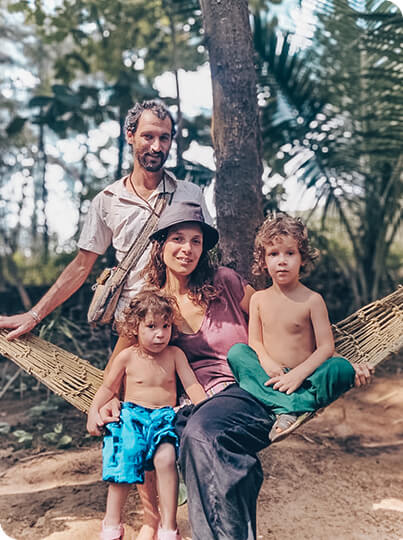 I'm sitting in my aunt's living room, planning my next few days in Australia while hearing the news broadcast in the background on TV. I see the images from the corner of my eye: Israeli soldiers are once again engaged in battle in the 2nd Lebanon war. The scenes are frightening and shocking. Conversations with my family in Israel, thousands of kilometers away, and I discover that I have been summoned for army duty. And even worse, that a friend from my village back in Israel (who I just met in Goa on New Year's Eve a few months ago), is severely wounded…
Thoughts start racing through my mind – not again!
Yet another war? Will this ever end?
What can I do to change the situation – how do you
convert hate into love?
I began to envision in place of soldiers – backpackers, instead of weapons of war – musical instruments, and rather than hate and destruction – an abundance of brotherhood and love, displacing the depths of grief and despair with joy and hope…

And so an idea was born out of a vision – to bring people from all over the world together to experience a journey of togetherness, Love and Tolerance in the land of endless conflicts… This is my contribution to Peace on Earth.
Walk about Love
Reading through all this again afterwards I realised that is doesn't nearly to the real deal justice, but at least I will remember some of the incidents that changed my life.
It's about a journey
There are certain lessons that I think might be engrained in me. increased confidence in it's ability and resilience, and a lot more knowledge.
Путь к размышлению
"Walk about" это австралийское понятие означающие "Путь к размышлению". В Израиле это понятие обрело новое значение.
The perfect way to describe what Walk About Love is - is to see what other people think about the journey.