The morning begins with everyone making their own breakfast and meals for the day.
Our team will make sure you have all the ingredients on the table, such as tea, coffee,  milk, soy milk, bread, spreads, eggs,  vegetables, fruits, yogurt, granola, oatmeal and  more.
Our staff brings fresh groceries to the night camp every day, but sometimes certain groceries, like milk and yogurt, cannot be provided due to our location.
All the personal equipment must be folded and placed on the track before leaving for the daily route, then we will have it moved to the next camp.
A weight limit of 14 kilograms applies to personal equipment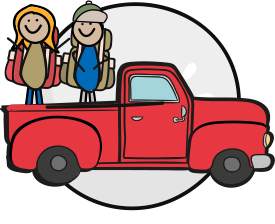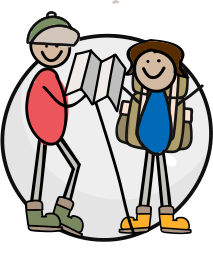 The trial is self-guiding, no guides are provided. Navigation of the trail is made easy with the app and its markings.
There will be a WhatsApp group for the trip where we will be able to communicate and ask questions during the day.
A big part of the trail's charm comes from the springs, views, and changing landscape, so plan your departure time early in the morning and enjoy the hike.
From 16:00 onwards, our crew will be waiting for you at the camp. Welcome, Home!
Once you arrive back in camp, you can take your personal gear from the track.
For a restful night, take our mattresses with you.
In addition to two hot showers and two toilet cubicles, we will provide cleaning equipment such as wipes and a wiper to ensure the facilities are kept clean.
Showers are quick and easy, but we recommend taking a bathrobe to save time getting dressed in the shower.
The showers are powered by solar systems, so there may be a slight delay from time to time.
Each evening, we will provide grocery items for you to prepare dinner with friends from the group. 
Taking part in the meal preparation is completely up to the group members.
Food circles around the fire, it is time to unwind, share a meal, and talk about life.
The field calls for maintaining personal hygiene, especially when living in a group.
It is important to clean the dinner utensils and the common areas after you. We supply you with scotch and soap. 
We will save water by washing dishes in three buckets, one with soap and water and the other with clean water.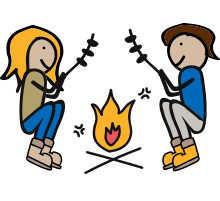 Saturdays on the trail are dedicated to rest, and you're welcome to invite your family or friends to camp.
We have a washing machine available for your use.
In spite of its beauty, the Israel Trail is quite challenging, so it is important to be in shape and in good health to tackle it.
As we walk side-by-side in the WalkaboutLove, we get to know each other and make lifelong friends. 
We believe in mutual guarantee, being for each other even if it is difficult, and taking an active part in the night camp tasks.
You can call us for a consultation to determine if this is the right program for you.